"Look, cards on the table: you're not over Betty. And I'm not interested in being anybody's rebound. Besides, I'm more into girls anyways"
—Toni rejects Jug
Jopaz is the het ship between Toni Topaz and Jughead Jones on CW teen mystery drama Riverdale.
Canon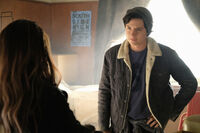 Toni volunteers to show Jughead around Southside High on his first day, on account of FP being a Southside Serpent. She advises Jughead to align himself with the Serpents to avoid retribution from the Ghoulies, another gang at Southside. After Jughead is beaten by them, he takes Toni's advice, but doesn't tell Betty and asks Toni not to either. Jughead decides to make a play for the defunct Red & Black, Southside High's newspaper and convinces his teacher to allowe Jughead to resurrect it, which Toni refers to as his sanctuary at SH. She is a photographer and Jughead playfully convinces her to join as the Red & Black's photographer. Although Jughead's with Betty, he flirts with Toni almost from the moment they meet.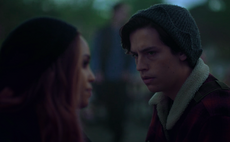 As Jughead's not part of the Serpents, most of them are skeptical of him, but Toni stands by him and they spend a lot of time together at school and the paper. Following Archie and the Bulldogs' rumble with the Serpents, and Archie shoving a gun in Sweet Pea's face, they are planning on retaliating with a pipe bomb. Jughead tries to calm the waters, but to no avail and tells Toni that his only option is to step into his father's peace keeping footsteps by joining the Serpents fully. Toni's trepidatious and warns Jughead of the dangers of, not only initiation, but life as a Serpent. Jughead tells her he was inspired by her to take up this mantle, when she told him that the Serpents might falter without FP's presence.
Toni does everything she can to support Jughead through the initiation process and the intensity brings them closer, although Jughead begins to realise that he's actively diving into something with Toni although he's still with Betty. After Jughead passes the gauntlet, they hang out together in the trailer and share a kiss, which turns into the making out. The next day, the eat breakfast at Pop's and Toni tells Jughead she's not interested in being a second choice and tries to say 'they're cool', to which Jughead seems disappointed, although he doesn't miss her point. She also tells him 'I'm more into girls anyways', perhaps to disarm any tension, but likely also feeling rejected by Jughead somewhat.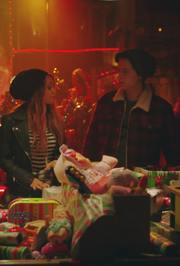 True to her word, Toni stays friends with Jughead and he now fully embraces and cherishes his place in Riverdale as a Southside Serpent. Whether adhering to Betty's request or not, Toni also checks in with Jughead, surmising that, in spite of what Jughead relays, he's in deep trouble with the Snake Charmer. When Jughead wants to put an end to Penny Peabody's involvement with the Serpents, in spite of FP keeping him out at all costs, Jughead goes to the teen members and asks that they help him with a plan he's devised. Toni steps up and recites the first law to Sweet Pea and Fangs, indicating that the right thing to do is support Jughead and she's successful.
Quotes
Toni – Why the change of heart anyway? Why go from conscientious objector to full-fledged member?
Jughead – Because of something you said
―Partners
Jughead – Great, so Archie started WWIII
Toni – Northside has been dumping on us for years! Your Dad tried to keep the peace; avoid bloodshed. Now that he's gone idiots like Sweet Pea think there's only one path and one solution: violence
―Real talk
"Yeah, all I need now is a photographer with an amazing eye and a hunger for social justice, and I think I'll be set"
—Coy Jughead
Fandom
AO3
TUMBLR
WIKIS
Songs
sign of the times | HARRY STYLES
walking in the dark | ESCAPE-ISM
ghost | ZZ WARD
Photos
Media
Ad blocker interference detected!
Wikia is a free-to-use site that makes money from advertising. We have a modified experience for viewers using ad blockers

Wikia is not accessible if you've made further modifications. Remove the custom ad blocker rule(s) and the page will load as expected.